L'établissement scolaire, espace de travail et de formation des enseignants?
For several years, research about teachers training has been focused on the concepts of professional development, professionalisation (due to changes in knowledge to be passed) students and families expectations, and transformation of teachers' work. How can one improved student learning : by improving professional practice ? How to consider teacher training beyond the initial training and the adaptations of the profession to specific contexts ? After two previous literature reviews about the organization of initial teacher training, in 2005 and 2010, this new synthesis addresses the teachers activity within schools and the professionalisation of teachers (new or experienced) in their workplace. Based on the concept of school as a training space ("as a learning organization"), this synthesis presents research work on the analysis of the activity, learning in the workplace, teachers' affiliation to a learning community and the training devices which can be implemented, given the observations of activity in the classroom and in the school.
Après deux précédentes revues de littérature portant sur les réflexions et travaux de recherche relatifs à l'organisation de la formation initiale, en 2005 et 2010, ce nouveau dossier aborde l'activité enseignante au sein des établissements et la professionnalisation des enseignants (néo-titulaires ou plus expérimentés) dans leur espace de travail. Les travaux relatifs à la formation des enseignants ont donné lieu, depuis plusieurs années, à des débats sur les concepts de professionnalisation, professionnalité, développement professionnel, didactique professionnelle. Les savoirs à transmettre, les publics scolaires et les attentes de la société évoluent, transformant le travail enseignant. Comment se préoccuper des apprentissages des élèves, en améliorant sa pratique professionnelle ? Comment envisager le prolongement de la formation initiale et l'adaptation à un contexte spécifique ? Quel que soit le secteur professionnel, le développement professionnel s'envisage au premier chef dans le lieu d'exercice de ce métier. Peut-on considérer, dans une perspective plus globale, à long terme, que l'établissement scolaire est une organisation apprenante, au même titre que n'importe quel espace collectif où s'accomplit une activité professionnelle (entreprise, hôpital, association, etc.) ? Cette revue de littérature a pris pour principe de croiser les travaux sur la formation des enseignants, les problématiques de professionnalisation, au regard des travaux sur la formation des adultes et les problématiques d'organisation apprenante, d'ergonomie du travail, de didactique et de développement professionnel.
Fichier principal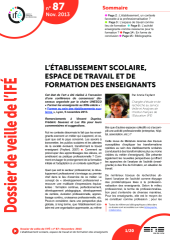 DA87-version04-11-2013.pdf (675.99 Ko)
Télécharger le fichier
Origin : Explicit agreement for this submission